The Tucson Festival of Books was held on March 2-3 on the University of Arizona campus in Tucson. Carol Fitzgerald attended and so did at least six Bookreporter readers. Below you will find commentary from one of those readers, Muriel Logan, about the sessions that she attended. If more of our readers were there, please let us know.
---
My husband Bill and I attended the Tucson Festival of Books with my sister, Nadine, and her husband, Jerry. We went to four author sessions and found all of them to be enjoyable, whether we were familiar with the authors ahead of time or not. They were interesting, informative, witty and added many touches of humor. The highlights I'm listing are just a small snapshot of what was discussed in the hour-long presentations we elected to attend from the numerous choices that were offered. Each session had a theme that the authors were supposed to focus on in their comments.
Session One: "La Creme de la Crime" with Cara Black and Martin Walker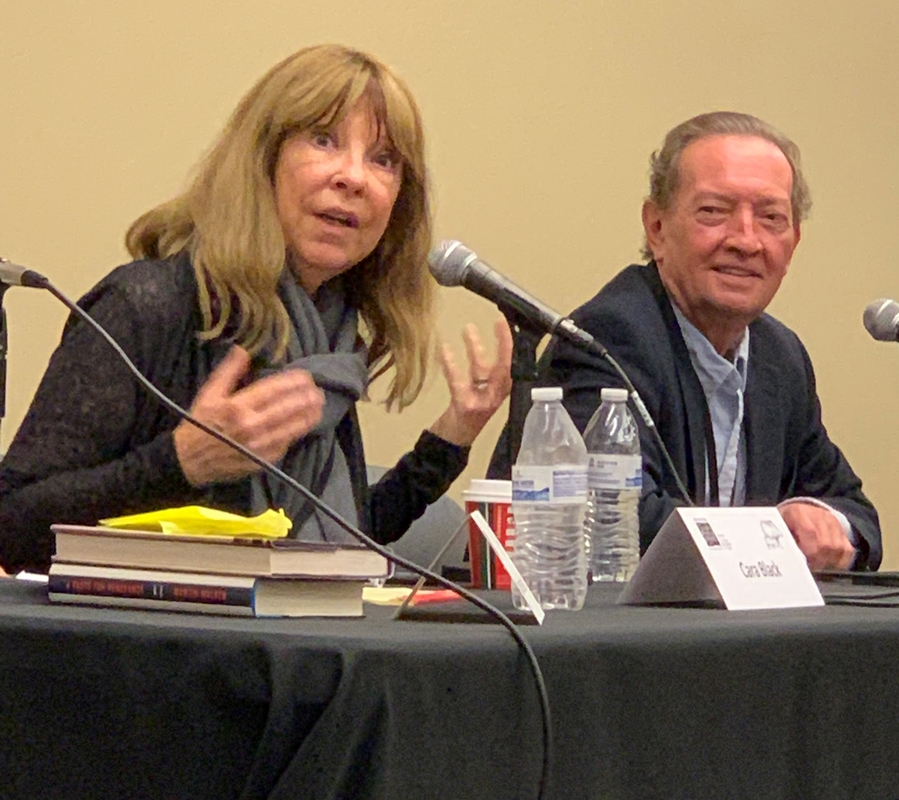 Cara Black writes a mystery series set in Paris, France, with Aimée Leduc as her half-French, half-American main character. Martin Walker's detective series is also set in France with Bruno, a police chief, as his protagonist.
Both authors are accused of littering the landscape with corpses. With the type of writing they do, they look for murder scenes wherever they go. Seeing a medieval well on one of his journeys, Walker knew he had to have a body in there. One of Black's book goals is murder in a cemetery.
Both have a lot happening in their books in a 24-hour time period. Aimée Leduc, in particular, never lets up and never lets down. The villain is the architect of the whole book. The investigator tries to figure out what has happened with urgency and immediacy.
Black and Walker talked at length about France, politics and French history. Martin quipped, "Who knew politics in America would become an arm of the entertainment industry?"
During Q&A, a woman in the audience complimented both authors on having characters who exhibit characteristics of love, hope and caring. Black commented that true heroes like to do the right thing.
Lastly, I'll mention that Walker has compiled a cookbook called BRUNO'S COOKBOOK, which won a prize as the world's best cookbook. It has yet to be translated into English.
Session Two: "It's a Family Affair" with James Anderson, William Kent Krueger and Michael McGarrity
James Anderson's protagonist is a Jewish/Native American character named Ben Jones, who is a truck driver in Utah. He is an amateur sleuth who is "kidnapped by mysteries." Anderson said you have to write about characters who people care about. He liked the way John Steinbeck wrote about people. When he sits down to write, he wants to produce the best book he can and doesn't necessarily plan to write a mystery. During a difficult time in his life, Anderson drove to Utah, parked his car and walked. To him, there is something special about Utah. It tells him stories.
William Kent Krueger's main character is Cork O'Connor, a former sheriff living in Minnesota who is part Irish and part Ojibwe. Krueger has no law enforcement background himself, but understands human nature and people, and lives in Minnesota. Cork's wife, who died tragically in one book, was a blonde attorney, and Krueger's own wife is a blonde attorney (there were some humorous comments about this).
Michael McGarrity's main protagonist is Kevin Kerney, a law enforcement officer, investigator and social worker who solves cases in New Mexico, where McGarrity is from. McGarrity said of Kerney, "Women love him, and men want to be his friend." He went on to say that his character is younger, taller and better looking than himself.
All three authors discussed setting quite a bit. McGarrity can't start a story without knowing what the place is like. He commented that we are all products of our environment. Setting is as important to him as anything else in the story. Krueger's settings are based on real places in northern Minnesota, but his town of Aurora is fictional. He wants to be able to play with the geography a bit and doesn't want readers to be checking on the accuracy of all the details. Still, the place should feel real. He has vacationed, done research and talked to people in the area of Minnesota he is writing about. Anderson pointed out that he had a map in one of his books, and a couple called him because they were having difficulty finding a place pictured on the map. He had to tell them that the map was not of a real place.
The authors also talked about writing a series. McGarrity did not plan to write a series about the same character, but the character's voice got stuck in his head and he couldn't get rid of him. His family will tell him when it's time for the series to end. Krueger stated that authors usually don't plan to do a series, but he realized his characters were complex and needed more books. His wife will tell him when it's time to end the series.
As for their writing styles, Krueger plans everything out and doesn't understand how a mystery writer would want to do it any other way. He calls himself an "anal architect" who constantly thinks ahead about his characters and aims to plant clues for his readers. Anderson and McGarrity just kind of allow their characters to let the story unfold. Anderson's rough draft becomes his outline. McGarrity turns in an outline, but his publisher knows they will never see that book.
William Kent Krueger is a particular favorite of mine. I was pleased to hear that he has a book coming out in September, THIS TENDER LAND, a stand-alone novel about four orphans running from the law.
Session Three: "Women Making Their Way" with Marie Benedict, Kate Quinn and Rachel Kadish
All three of these authors want to give women credit for their accomplishments and show how amazing, intelligent and courageous they were --- or, in some cases, could have been if given the chance. They talked about how difficult it was throughout history for women to be taken seriously or given credit for accomplishments in areas such as music, art and inventions.
Each author discussed one or more of her books. Marie Benedict talked about THE ONLY WOMAN IN THE ROOM. She related details about Hedy Lamarr's inside information concerning Hitler and the Nazis in WWII, the Jewish people, and her radio frequency invention to make torpedoes radio-controlled. The U.S. Navy would not accept her ideas and shelved her invention. The American government would not believe the facts she knew about the Nazis, not trusting that a young, beautiful woman could understand what she had seen. Benedict experienced some difficulties researching many aspects of Hedy's life. There was not much information about her first marriage to an arms dealer in Austria, and it was hard to know what details were true in some instances.
Kate Quinn compared history to a sieve that in earlier times only caught the accomplishments of white, wealthy males. She asked the question "What does it take to propel a woman from an ordinary life?" War is a big factor; another is women helping other women. She discussed her new book, THE HUNTRESS, and the group of all-female night bombers called the Night Witches. If readers come across something in her books that is especially weird and off the wall, it's probably true. As an example, she cited a plane with a bomb underneath that a female pilot had to get out of and go underneath a few times to make adjustments to the bomb before going back into the plane. After reading about this, she knew it had to go into the book.
Rachel Kadish has written about women who have something to contribute during a time period that would not allow this. In her book, THE WEIGHT OF INK, that time period was the 1600s. Her young protagonist, Ester, is fortunate to be allowed to work as a scribe for a blind rabbi when her brother decides he has other plans. The rabbi protects Ester and helps her learn and grow, offering her more opportunity than what would have been the norm at that time.
Session Four: "Pages to Soundstage, Books to TV & Film" with Lisa Genova, Tess Gerritsen and James R. Hansen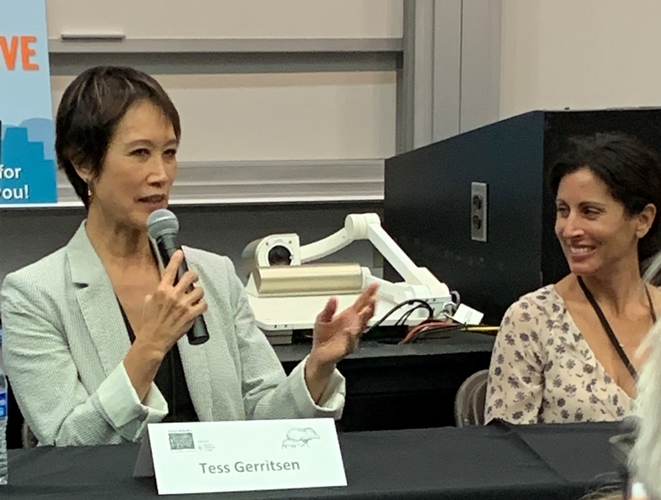 All three of these authors have quite impressive credentials and interesting backgrounds. Lisa Genova is a neuroscientist who graduated from Harvard. Tess Gerritsen is a medical doctor. James R. Hansen was a professor at Aberdeen University.
Hansen approached Neil Armstrong about writing his biography. It took him two years to convince this private man to work with him. Hansen felt that his 20-year career writing about aerospace finally convinced him. The book was optioned for a movie in 2002, but it took 14 years for First Man to be was made. Hansen felt a responsibility to Armstrong when it came to the movie, which was marketed as an Apollo film but it really was not that. One has to understand how Armstrong grew up and how the death of his two-year-old daughter, who had a brain tumor, affected him. His journey was one of grief, as well as a journey to the moon.
Genova discussed her novel, STILL ALICE, and her experience of it becoming a movie, which eventually received the attention she hoped it would. At first the only film offers she had were from Hallmark and Lifetime for TV movies. However, she wanted it to be a major movie that would generate a global conversation about Alzheimer's disease and other neurological conditions. To make a long story short, she finally decided to offer the film rights to a couple of gentlemen who really did not have strong credentials. She doubted what she had done when she found out that they had been writers for some pornographic movies. It all turned out well, and as we remember, Julianne Moore received an Oscar for her role in Still Alice. It was a thrill for Genova to attend the Academy Awards ceremony, and she hopes to be there again.
Gerritsen has written the Rizzoli & Isles series, which became a long-running drama on TNT. It was a top-rated show for many seasons before being canceled. She said the demographics of viewership can make quite a difference. Women over 40 were her primary viewers, and since many times 18-25-year olds determine the success of a series, she felt this was a reason for the cancellation. She talked about some of the differences between her books and the television series. In the books, Jane Rizzoli is short, has frizzy hair and is not pretty. Angie Harmon, who played Rizzoli on the show, is tall and beautiful. Also, the TV series contained more humor than what she had in her books. Gerritsen also mentioned that she got $10,000 an episode to be a consultant but was called only once.
Hansen talked about his relationship with actor Ryan Gosling in First Man. Gosling wanted Hansen to give him advice about anything he thought would be helpful. However, the producers did not want Hansen on the set talking to Gosling and made that very clear.
According to Genova, the movie adaptation of STILL ALICE was very true to the book from beginning to end. She had a good relationship with the writers, who sent her every script to read, and trusted that they were using the best scenes.
All three authors alluded to the fact that it's a miracle movies even get made. There are lots of ups and downs as you wait. The budget comes under consideration, and actors, producers and directors all have to be free at the same time. In 2015, Russell Crowe was approached about Genova's book, INSIDE THE O'BRIENS. He was interested but was going through a divorce and could not leave the country (Australia, maybe) to film because of child custody issues. As a result, everything fell through. They went back to him later but nobody wanted to direct him. Genova mentioned that LEFT NEGLECTED has been shown to Amy Adams and Jennifer Lawrence, but no commitments have been made yet. Gerritsen commented that once you get talent attached to a project, things move more quickly in getting a book made into a movie.
Our group of four came away from each session feeling like the authors truly wanted to be there, and connected well with each other and the audience. We highly recommend going to any book festival you have a chance to attend. It's a great experience, and we had the added pleasure of meeting Carol Fitzgerald at this festival.