"Today we all are Irish," says
Mary Pat Kelly
, today's guest blogger and author of the novel
Galway Bay
. Read on for her St. Patrick's Day greeting and to find out which of her family members inspired a central character in the story.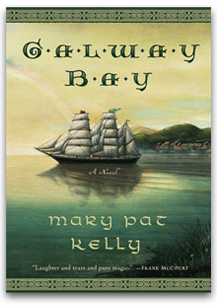 "It's a great day for the Irish," the song goes, and I can hear Judy Garland singing those words as I wait in my New York apartment for dawn to come on this St. Patrick's Day. These very early hours are when I write, and as I sit here I think of all those mornings I spent with Honora Kelly and the other characters in
Galway Bay
. Some of the nicest comments I've gotten from readers begin "I didn't want the book to end. I miss the characters!" But for me they aren't gone, only busy living their lives in some other part of my brain and waiting to tell me all about it when I begin the sequel.
One thing I'm sure of, they'll march in the Parades. Chicago's, of course. I've just come from there after a wonderful two weeks of events that included a ceremony where more than one hundred of my cousins, many of whom I'd never met, gathered to put a stone on our great-great grandmother Honora's grave. Her life inspired
Galway Bay
, and honoring her was a deeply satisfying and very emotional experience. And because Chicago celebrates St. Patrick on the closest Saturday I have already joined in the festivities. I watched as a sheet of green dye slowly flowed down the Chicago River, stirred by a dozen kayakers until all the water turned a lovely emerald color --- Kelly green I'll call it in honor of the ancestors.
We'd begun the day with a beautiful Mass at the church everyone calls "Old St. Pat's." Pipers and Irish dancers led in a procession that included Mayor Richard Daley and Senator Dick Durbin. Lovely and solemn yet both men had been greeting people as they arrived at church. A very homey feeling in Chicago, my hometown, though many of the people I met during events such as the Irish American Partnership Breakfast and the Irish Fellowship Dinner were on their way to Washington for a St. Patrick's Day reception at the White House.
Mayor Daley and Senator Durbin were early supporters of President Obama, and Chicago's pride in him is evident everywhere in the city from the banners with his picture that wave from lamposts up and down the streets of the Loop to the displays in store windows of memorabilia of every kind. And the fact that some of Barack Obama's ancestors came from Ireland adds to the sense of celebration. Quite a close link, too. He knew his great-grandfather, Ralph Dunham Sr., whose mother's father, Fulmoth Kearney, was born in Ireland.
Irish America
magazine has the whole story, and past issues are now available on the new site IrishCentral.com.
So many Americans have some Irish in their background, and today we all are Irish. On Broadway, the Mexican restaurant Rancho Santa Fe is decked out in green, and H & H is offering green bagels. The line down Fifth Avenue has been painted green, and in a few hours I'll wave at my friends in the Leatherneck Pipes and Drums, former and serving United States Marines, as they step smartly up the avenue.
I imagine Honora, her sister Maire and their children cheering along side. All of us in America are descended from people who suffered, who were forced from their homes. Yet they turned the tragedy of exile into triumph simply by surviving. We are their victory. A lot to be thankful for as I head out to the Parade --- and here's the sun coming up, good weather, too!
Happy St. Patrick's Day. Slainte!
---Mary Pat Kelly