Shannon McKenna Schmidt's book club met recently to discuss Markus Zusak's
The Book Thief
, which is set in World War II Germany. It's classified as a young adult novel, but as she shows, it clearly doesn't matter what age you are, you're likely to come away with something from this unusual and inspiring story.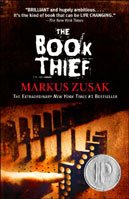 When I picked up a copy of
The Book Thief
, my first thought was: uh-oh. It was six days before my book group was meeting to discuss it, and the novel clocks in at a hefty 550 pages. I like to read our selections close to the date we're gathering so that the story is fresh in my mind, but there's a fine line between having enough time and waiting too long. As it turns out, though, I needed only three days.
I was hooked from the first page, which introduces Death,
The Book Thief'
s darkly comic narrator. I'll let him describe the book.
It's just a small story really, about, among other things:
* A girl
* Some words
* An accordionist
* Some fanatical Germans
* A Jewish fist fighter
* And quite a lot of thievery
The girl is Liesel Meminger, orphaned at the age of nine and perpetrator of "quite a lot of thievery" --- mostly books. Death first crosses paths with Liesl in 1939, when he claims her younger brother as the two siblings are making their way to a village outside Munich, Germany. There Liesel lives with the Hubermanns, tart-tongued housewife Rosa and silver-eyed accordion player Hans, who also take in a young Jewish fist fighter named Max and hide him in their basement.
The Book Thief
is a character-driven novel and so to a large extent was our discussion --- Death, Liesel, the Hubermanns and Max, for starters. There is also Rudy, the boy-next-door and Liesel's best friend and co-conspirator, and the mayor's wife, silenced by grief, who allows Liesel to steal books from her library.
Not everyone agreed on all aspects of
The Book Thief
. One person noted that she had trouble getting into the story for the first 100 pages. I couldn't help but wonder if we were reading the same book, but it goes to show how stories affect us in different ways.
Another member commented that she liked the foreshadowing throughout the book --- and how she didn't think she could have dealt with some of the horrific happenings if there had not been advance warning. So did I, for the very same reason. I just didn't realize it until I heard her say it.
By far the most interesting comment of the evening came from the person who had chosen
The Book Thief
on the recommendation of a colleague. Being Jewish, she told us, she had never really thought about World War II from the perspective of ordinary Germans --- those like Hans Hubermann, who opposed the Nazis in ways both small and large, risking his and his family's safety and his livelihood to do so.
The Book Thief
is 550 pages of amazing and sometimes unusual storytelling --- a rather startling narrator (Death spares no sentimentality for the souls he's collecting or for the reader), the powerful storyline, the historic setting, intriguing color imagery, unexpected plot devices like a mini graphic novel --- and an interesting and engaging cast of characters, for me the most important part of any novel. I did have a minor quibble with the ending, which surprisingly was something we didn't discuss.
Did I mention Markus Zusak's lyrical prose and exquisite turns of phrase, some of which I read two, three times? One of my favorites comes in a scene where Hans Hubermann, Liesel's adored adoptive Papa, offers her some words of wisdom after she acquires new reading material and isn't exactly truthful about where she got it.
"He suggested that perhaps she should read to him. 'Come on, Liesl, you're such a good reader these days --- even if it's a mystery to all of us where that book came from.'

'I told you, Papa. One of the nuns at school gave it to me.'

Papa held his hands up in mock-protest. 'I know, I know.' He sighed, from a height. 'Just... He chose his words gradually. 'Don't get caught.' This from a man who'd stolen a Jew."

For a booklover, this story was especially poignant. Books are a luxury for Liesel, who acquires her small and beloved collection in various ways, including one she rescues from a celebratory Nazi bonfire in the town square and another written for her by Max on white-washed pages of Hitler's
Mein Kampf
. It's a reminder of how lucky we are to have such easy access to books, as many as we want, be it buying them at bookstores or taking advantage of more affordable options like libraries, used books or even classics for free on the Internet.
I was struck by something Elizabeth Chang wrote in her review of
The Book Thief
in
The Washington Post
: "Death, like Liesel, has a way with words. And he recognizes them not only for the good they can do, but for the evil as well. What would Hitler have been, after all, without words? As this book reminds us, what would any of us be?"
There are some books I feel privileged to have read.
The Book Thief
is one of them.
---Shannon McKenna Schmidt
shannon@bookreporter.com