Sonja Somerville, Robin Beerbower and Liz Hughes from the
Salem Public Library
in Salem, Oregon, have teamed up to tell us about
The Local News
by
Miriam Gershow
. Along with their thoughts on the debut novel, they've crafted questions you can use if your group decides to discuss the book.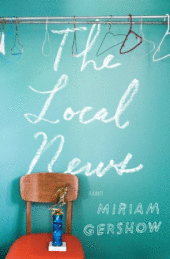 Oregon author Miriam Gershow has done a lot right in her debut novel,
The Local News
, beginning with writing one heck of a compelling opening chapter. She lays it out in a few elegant strokes.
The Local News
is the story of a young woman whose popular, jock brother disappeared as he approached his senior year. Left behind, his dorky younger sister doesn't care as much as you might think. In fact, she may be a little glad to be rid of him. "Going missing," she says as the opening chapter concludes, "is the only really interesting thing my brother ever did."
It certainly makes you want to read on.
Gershow takes her leading lady, Lydia, back to the weeks during which her family disintegrated and the neighborhood spun out of control in a frantic effort to locate the missing boy. Lydia claims disinterest, but is caught up in the drama and uses the interest in her brother to increase her own social status. Lydia also develops a complex relationship with the private detective her parents finally hire to help the family figure out what happened to their beloved son.
The story is a page-turner with a quality reminiscent of Jodi Picoult's ability to explore complicated dilemmas without attempting anything so trite as solving the problem. For anyone who has ever not been able to muster the "right" feelings about the absence or loss of a loved one, there is a connection to explore on a personal level.
Gershow's book also offers a lot for a group to explore, with issues a-plenty to drive a lively discussion:
Did Lydia, as she claimed, welcome being ignored by her parents in the wake of her brother's disappearance? Or was she begging for attention?
Why does Lydia so deliberately refuse to cooperate with and mislead her therapist? Why does she exaggerate the cruelty of her brother?
Lydia talks a lot about why she becomes so involved with the private detective. What is he thinking? Does he really care about her or the situation that he finds her in?
What drives the varied reactions to the disappearance of the characters outside the family? Are they genuine?
Does Lydia grieve? How does she express her grief?
Do Lydia's parents really love her brother more? Do they love Lydia more or less in the wake of her brother's disappearance?
Is the reaction of the parents to the disappearance reasonable? What drives each member of the family as they first search for answers, then cope with the final knowledge of what happened to Lydia's brother? Do any of them ever get over it?